1 Hour From Marbella
Hola! Last week I took a trip with some of my family to Spain, which was really lovely as we classify it as our second home. I haven't been to Southern Spain in over 5 years so I was eager to go back. In this blog, I wanted to give some inspiration of the 'not so touristy places' to visit when you stay in Marbella, because there is more to this sunny coast that meets the eye.
Just down the road from where I have been staying in Benhavís, is a place called Estepona where Laguna Village is. I guess it's a bit like an outside mall, theres a few shops, estate agents and a variety of restaurants and beach clubs. It reminded me of a mini Ibiza, as there were luxury dining areas and plush pool day beds with bottles of Moet. If that doesn't take your fancy there are a nice selection of cafes to sit, grab some tapas and enjoy the sun.
CLARO BEACH CLUB
This was a really lovely contemporary restaurant. The menu was quite diverse offering seafood, meat dishes and snacks to share. I really loved the water features that seemed to engulf the outside. It felt as though you could have been on a tropical island. Because it was early, I didn't have anything to eat but instead, I ordered a tinto de verano which is similar to a sangria but with less fruit. At €4 a pop, you could quite easily drink a few.
CAMPURI
After a few hours in the sun, tapas was on the cards. Campuri serves a lovely selection of Japanese and Spanish tapas so there is so much to choose from. Tuna balls, king prawns and hummus made the cut and it was delicious!
The dinner menu at Campuri was exquisite, again with a real variety of what to have. As Japanese is one of my favourites, I thought I would order a poke bowl which I have had before at The Ned in London. I love how fresh and light they are. This particular bowl was topped with mango, avocado, wakame salad and cucumber, simple yet delicious. We paired the food with a bottle of rosé cava because when you're on holiday - you have to have bubbles!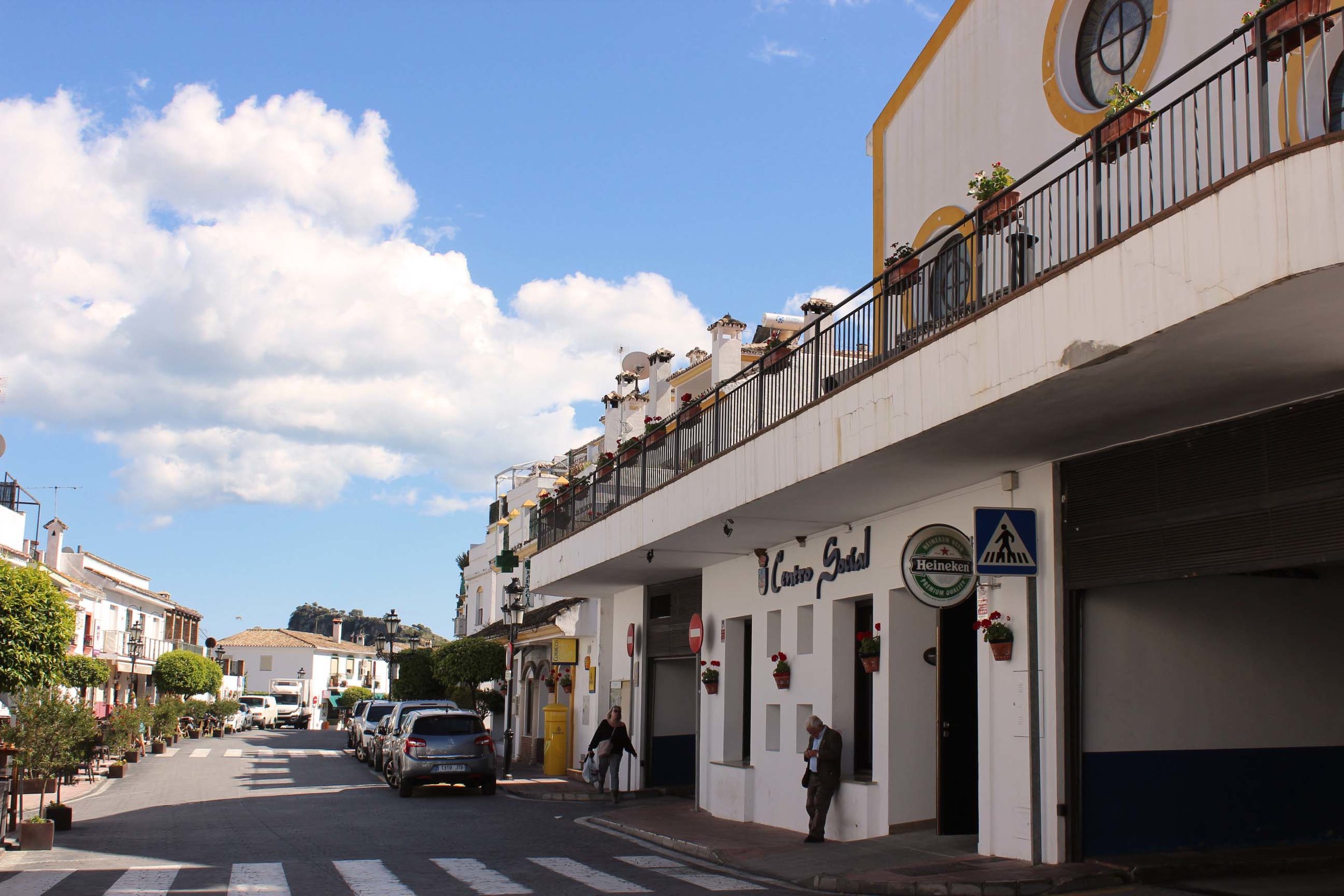 I have been coming to Spain since I was born. My Grandparents had an apartment for over 30 years. After flying to the Costa Del Sol for so long, it began feeling like home. However, I had only been to Benahavis once, maybe twice, in the past so I was excited to see what was in store for the week. Benahavis is situated on a mountain so the views are incredible and the roads are up and down hill with different pathways leading you to hidden restaurants.
It isn't a big town, but is very pleasant for wandering in and out of small boutiques, but it is commonly known for its excellent restaurant scene. As it is April, the town isn't very busy, but in the summer it buzzes. My family and I have probably eaten at every restaurant in Benahavis and we honestly can't fault the food. Our favourite on this trip was a new restaurant called The Havis. We were lured in through the promise of "if the food is bad - I'll pay for your meal" sales trick, but it bloody worked and in we went. Not only was the place run by an entire family, the service and hospitality was out of this world. As eating out is my forte, this level of attention blows out some of the top eateries. Plus the head waiter makes his own unique shots, so what more could you want?
I had never been further than Gibraltar on the coast, so this was a something new. If you're into windsurfing or similar sports than you probably have heard of Tarifa. It's every water sports person's dream. This patch of coast is where the Atlantic meets the Mediterranean creating a constant wind. The climate here is also different from the mainland. Minus the cold winds, it was idyllic. The beach was filled with windsurfers which was an amazing sight. Right on the beach is a hotel and restaurant which is inspired by Moroccan decor, as if you look out to sea you can see Morocco. The restaurant had a perfect little sun terrace which was sheltered from the wind, so a real sun trap if you're wanting to catch a tan.
The restaurant offered a menu that would suit anyones needs, but they are known for their freshly caught tuna as they are prominent and popular on the coast. What is also great about this hideaway is that all four legged friends are welcome, so you don't have to leave them outside.
I hope this gives you some inspiration when you are next on the Costa Del Sol. If you have been before I would love to hear where you go.
Tayler x