24 Hours in Brussels
Happy Bank holiday everyone! As you may have read, last weekend I went to Brussels where I decided to not book a 5* hotel, but instead someone else's apartment for my first Airbnb experience. I had never been to Brussels before apart from when I was moving to Amsterdam, I got a connecting train, and stood on Belgian soil for about 10 minutes. After looking at what there was to do, there wasn't a great deal apart from snapping lots of seriously old buildings so I've narrowed down what is actually do-able in 24 hours, or maybe a little more if you want to do it with a bit more leisure but be prepared, there's a lot of walking.
EARLY MORNING
I love travelling with Eurostar. The service is exceptional and super cheap. I grabbed myself a €29 ticket each way from St Pancras International to Brussels Midi with the first train out and the last coming home. Like most travelling apps, I had my boarding pass on my phone through the Eurostar app which is so convenient.

Upgrade to Standard Premier, it's seriously worth the extra £, as you get a wonderful breakfast and unlimited tea & coffee on your way out and a scrumptious dinner and dessert on the way back (bonus - with free wine). This is a great way to start your trip, so relax and unwind in the roomy seats that all come equipped with usb and plug ports so you can document your journey from the word go.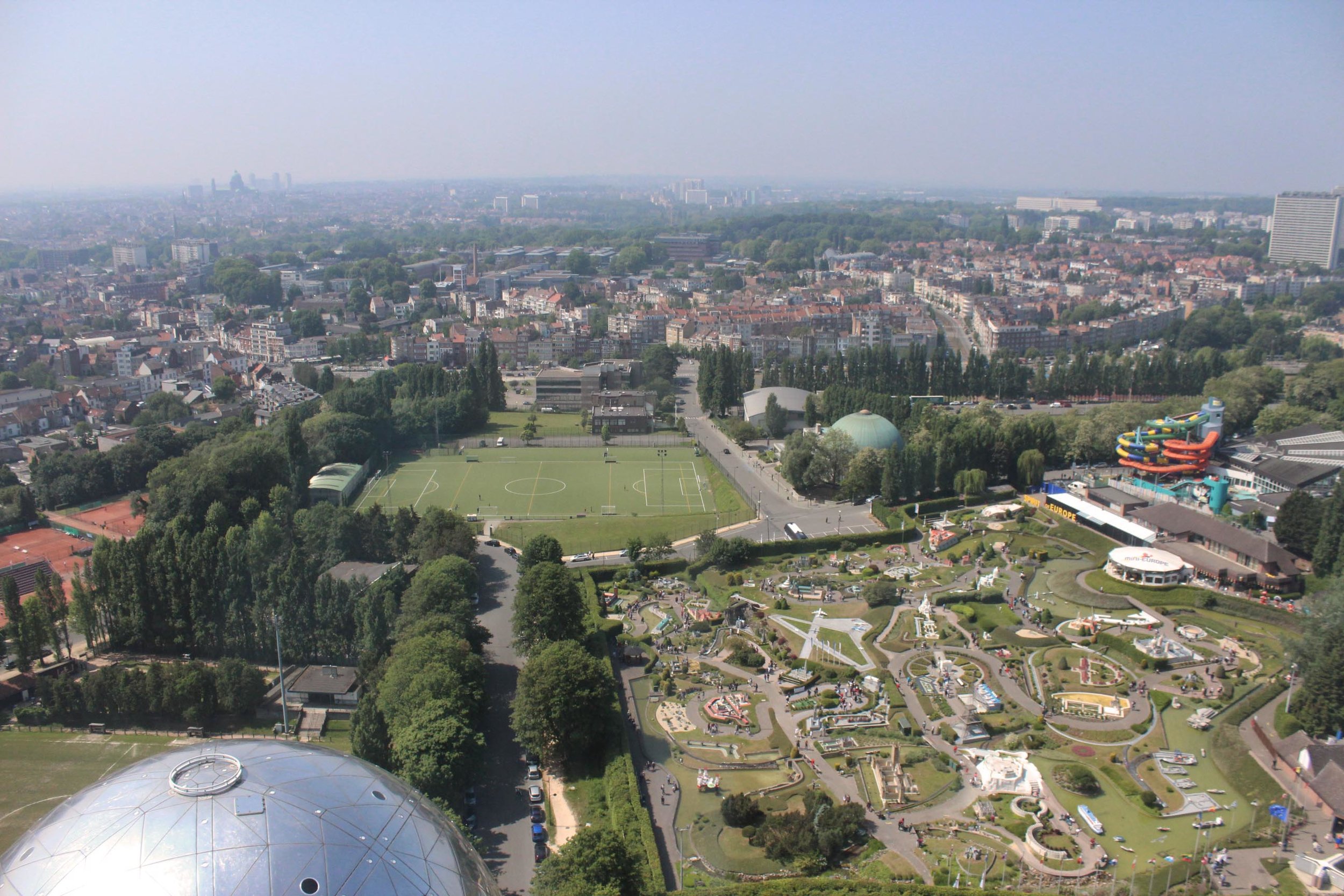 Known as one of Brussels most famous landmarks The Atomium is a definite must-see. Originally built for the 1958 world expo, this put Brussels at the forefront of technology. Running down the centre is a lift taking you to see panoramic views. Back in 58' this was the fastest moving lift in the world and amazed the thousands.

My tip here would be to pre buy your tickets. The queue was ridiculously long so buy online and save some time when you get there. you may have to wait inline for security too - which does take its time, so I suggest visiting this first and book a early morning time slot so you have the rest of the day to explore.
Close to the Atomium is the Basilica of the Sacred Heart, inspired by the Sacre Coeur in Paris. It's a bit out in the sticks but seeing it up close was incredible. I underestimated how big it actually was and although it wasn't as pretty as the one in Paris, this had an air of glory. Unfortunately we couldn't go inside, but just sitting outside was good enough. Admire the beauty in the details.

Metro for Atomium: Haizel (line 6) | Metro for Basillica: Simonis (line 6&2 but 6 stops away from Haizel)
You can't go to Belgium and not eat an traditional Belgian waffle. It's basically sacrilege! There's probably the same amount of waffle cafes as there are Pret's in London, so you're guaranteed to get a good one from anywhere. I bought mine just down the street from the famous 'Pissing' boy statue. Which kills two birds with one stone, so have a munch while looking at a peeing statue and you have some instagram gold right there.

Also - don't ask me why he is dressed up, it's known that they dress the statue in different outfits from time to time...
Just up from the Manneken Pis, is the Grand Place. the square that has all the traditional buildings with gothic architecture which does take your breath away. here you can find the city hall. We decided to partake in what Brussels is known for- chocolate so decided to pay a visit to the Chocolate Museum which is just off of the main square. It cost €6 to get in, and okay, it may not be the best museum in the world (features some very unusual looking mannequins from Aztec times) but what does make this place interesting is the praline demonstration they have. Here you can watch how to make handmade chocolates. It lasts around 10 minutes or so but it's interesting to see the techniques in action.
Metro for all the above: Bourse or Gare Centrale (line 3 or 4) All within 8 minutes from each other.
EVENING
It's like a mini Buckingham Palace I guess without the abundance of tourists standing outside! Still it's beautiful, especially at sunset. It's a must-see in the city. What's great about this area is that lots of other sights are close by. So once you've taken a few snaps of the Palace, we headed to Mont des Arts which is a mini curated garden, very picturesque. Round the corner is Brussel's most famous cathedral which is absolutely stunning. It had elements of the Notre Dam in Paris but it had it's own grace.
Metro: Parc (line 1 or 5)
It's tradition - you have to eat mussels when in Brussels. There are hundreds of restaurants that serve them so I didn't think I would have a problem, however... the original restaurant I had booked, I waited an hour to be sat down to then be told that THEY HAD RUN OUT OF MUSSELS! Like literally I thought it was a joke. It wasn't and a very hungry Tayler was v.v.annoyed. However after walking around, I found a wonderful bistro that sold them by the kilo. For around €20+ you can get mussels in any sauce you like. It was a perfect end after a day in Brussels.
So...where to next?