24 Hours in Budapest
Kicking off the series of "24 hours in..." is one of my favourite (so far) city breaks - Budapest. This is an incredible city that is full of history and fabulous architecture.

If you choose to fly into Budapest, once you're through to arrivals, you can grab a 24hr Travel Card which allows you to get on any bus, tram and metro within the city. It costs as little as 1650 HUF = £4.62 for one of these so it's defiantly worth it! The easiest way to get into the city is jumping on the 100E bus which is every 30 minutes and takes you to Kálvin tér or Astoria which are perfect centre points to making your way on the metro to wherever you are staying.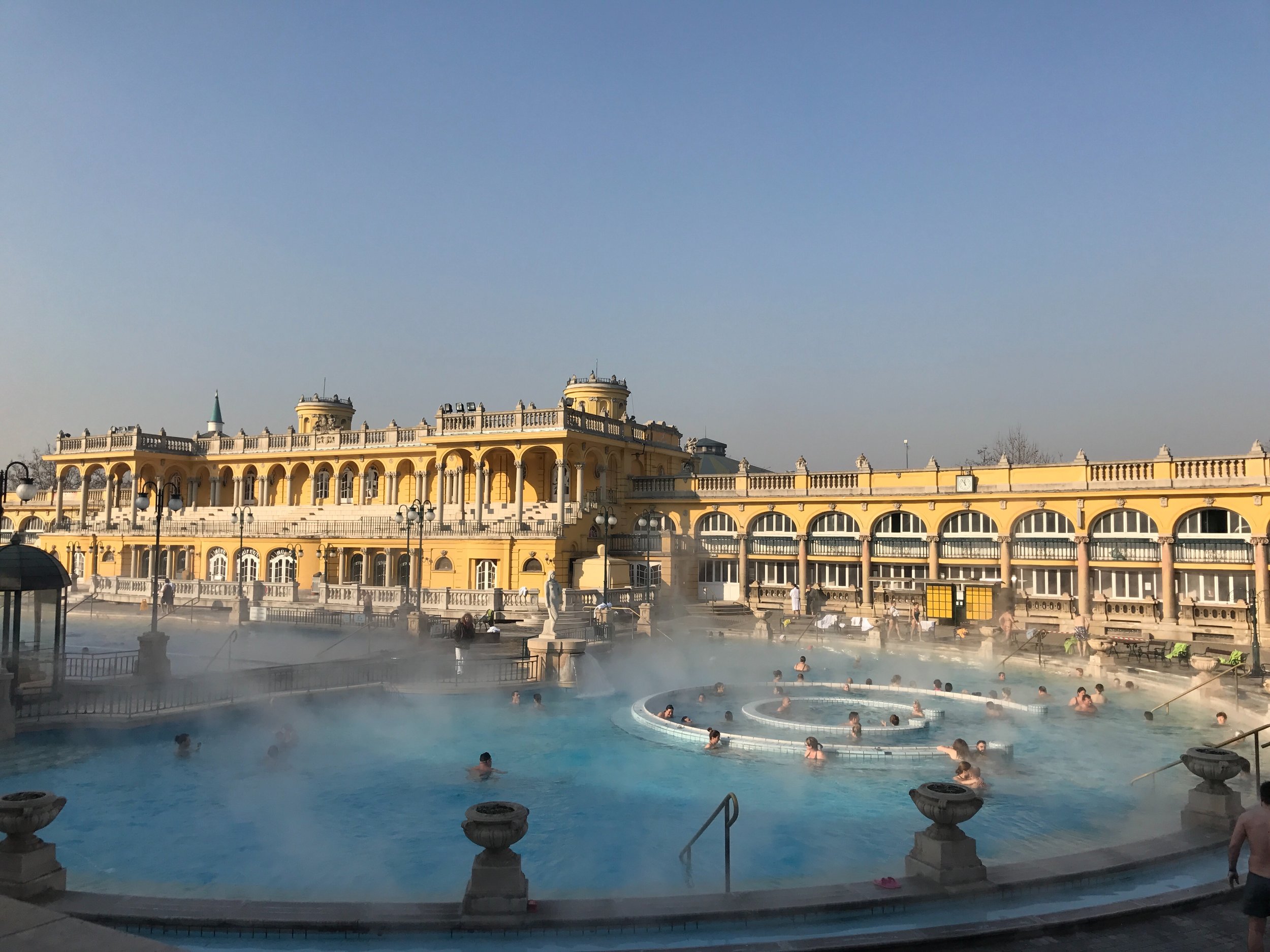 When it's -10c outside there is nothing better than starting the day in a wonderful hot bath! These baths are famous in Budapest and date back to the 1800's. The Szechenyi Baths are probably the most famous for its 50 metre wide outside pool which is heated to around 34c. This is a great way to relax first thing in the morning. You will find locals attending aquarobic classes as well as enjoying family time. Inside, you can find around 30 smaller pools so if you don't fancy being outside, you can still enjoy the warmth and unquie interiors.
Morning tickets (between 6am-8am) are around 4900 HUF = £14 which includes a locker. However if you pay an extra 500 HUF (added cabin extra and entrance ticket is around £15) you can have the luxury of a cabin which I would advise to do. You get your very own little cabin where you can get changed in private as well as a secure place for your belongings.

GETTING THERE: Metro Line - M1, Stop: Széchenyi fürdő.
A 5 minute walk from the baths is the famous Hősök Tere which translates to 'Heroes Square'. This plaza has been home to some very important political events. A great insta hotspot.
GETTING THERE: Metro Line - M4, Stop: Szent Gellért tér
After a relaxing hot bath experience why not make your way up to the famous Liberty Monument. Situated at the top of Gellert Hill, it may seem like a major hike but seriously - the views are worth the trek. The monument erected in 1947, to remember the liberation from the Nazi party in Hungary during WWII. If you're more of a walker - you can walk the entire way up, so you can slowly start to see the skyline of Budapest or instead you can get the 27 bus from Móricz Zsigmond Körter all the way to 'Citadella' There you can stroll through the parks and you're basically there.
Whilst you're on that side of the river, take a walk back down to Szent Gellért tér (19 tram) to Clark Ádám tér which is only a few stops away. There, change and get the 16 bus all the way to the top of the Fisherman's Bastion. This whole journey should take around 30 minutes.
Fisherman's Bastion was built in the 19th century, which leaves you breathless from the stunning gothic architecture as well as the panoramic views. What's so great about this place is that once you're at the top there are little side streets which have an abundance of shops and restaurants so if you're feeling a bit peckish this is the perfect spot to grab some dinner whilst enjoying the beautiful views of the city.
GETTING THERE: 16 Bus from Clark Ádám tér
This is just my personal selection of what you can achieve in 24 hours in Budapest. For a small city, there is actually quite a lot you can do if you had more time, but I wanted to focus on the main touristy sites. I didn't mention any recommendations for restaurants in this post but if you are interested I did write a food review of a restaurant called Up & Down which was extremely cheap and delivers exceptional quality. You can find that link here.
This is the first of the series so if you would like to see me do a blog on somewhere in particular please do comment down below!

Tayler x